Olivia's state-of-the-art inclusive and interactive playground has been approved!
Olivia's 1.27-hectare feature park has been approved! Construction is expected to commence in March 2022 and anticipated to be open by July 2022. This unique park will be surrounded by greenery with extensive planting, plenty of kick-about areas, seating areas and a shelter. 
What's really exciting is that it will change the way families play!
The Park will have traditional play equipment as well as state-of-the-art interactive equipment called Smart Technology Play. This new way to play brings together technology, gaming and outdoor equipment to provide an innovative playground which is inclusive of all ages and abilities. The whole family will love it!
For those who love traditional play equipment, there will be a massive tower, an oxygen climber, rockers, seesaws, a variety of swings including the nest swing, a carousel, a bike track (pedal park) and more! And if you're a little tech-oriented, you'll be thrilled with the interactive equipment.
Smart Technology Play is:
1. Multi-generational – specifically designed to encourage children, parents and grandparents to actively participate together. 
2. All inclusive – anyone with a disability can access the equipment and play together.
3. Dynamic – the game play experience can be updated and changed to always remain new and exciting. 
We're proud to say that Olivia is the first community of its kind in Australia to have an interactive playground such as this.
Get ready for Sona and Memo – for hours of endless fun for the whole family!
Olivia will have two interactive playsets in the park by Yalp: Sona and Memo.
These play experiences use technology and sensory engagement which include touch, LED light responses, music and audible instructions, and are centred around physical movement and reaction.
Their purpose is to provide choice for children and families. Every local park has a swing, a slide and a rocker; however, Smart Technology Play complements this traditional play experience, by providing new variety and opportunity.
Sona: The Yalp Sona interactive dance and play arch works intuitively. If you walk under the bow, it will immediately ask you if you want to play a game. Different games can be selected at the touch of a button and several players can play simultaneously in a group.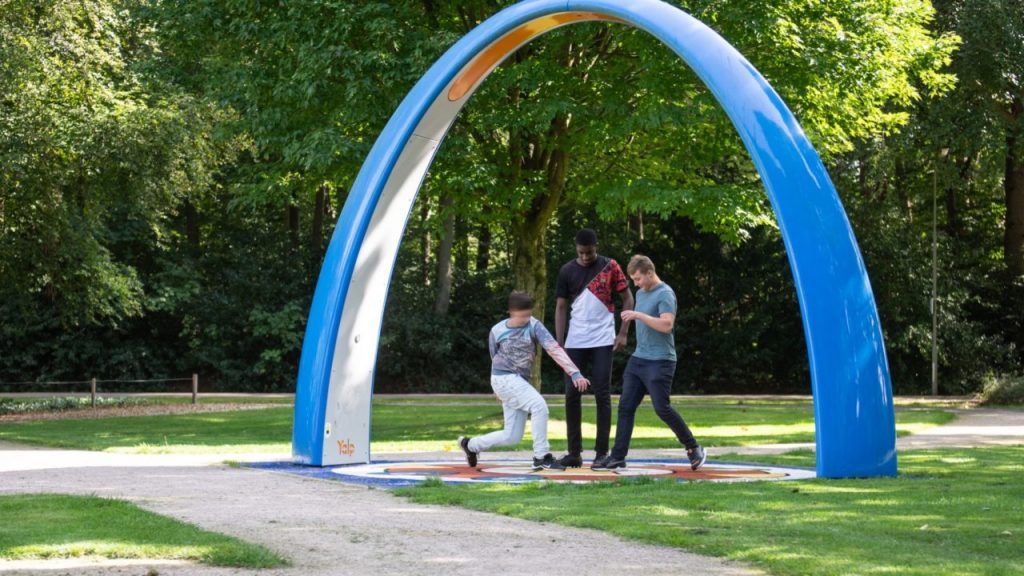 Memo: The Yalp Memo is a set of seven interactive play pillars which have an educational focus, with a 360° LED touch screen. The Memo has numeracy games to promote children's mathematical skills, and spelling games which are linked to movement, so children are getting both mental and physical exercise benefits at the same time.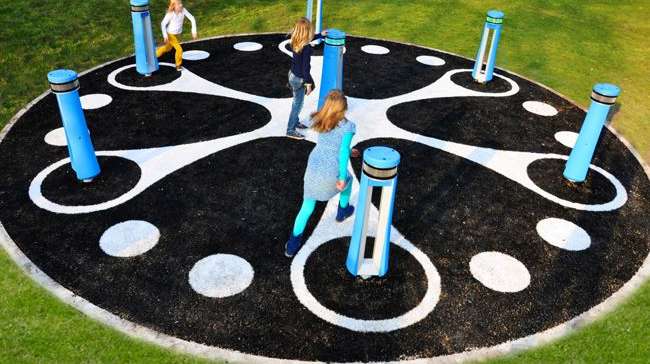 Who can play in this unique interactive park?
EVERYONE! This exceptionally unique technology allows all ages, abilities, and interests to play and engage together. Any age, any gender and any ability. There are no barriers to how these games can be experienced. 
They are wheelchair accessible and provide games that are practical and engaging for children and adults who may have an autism spectrum disorder, a physical disability or even older people experiencing dementia. 
Smart Technology Play offers an open and interactive arena for everyone in the Olivia community to get involved and play together. 
What are the benefits of Smart Technology Play for residents of Olivia?
Engages the senses – visual, audible and sensory.
Encourage socialisation, teamwork, communication, problem solving and movement.

 

Encourages social inclusion – it's designed for all ages, genders and ability and you can play with friends, family and strangers altogether
Multigenerational – it offers wonderful opportunities for young and old to have some fun together.
Games are always up to date – we can dynamically change game content at the click of a button. This means that games can be updated, renewed or changed to meet people's interests.
Games that residents prefer – we can track play statistics of the equipment and offer only the games that Olivia prefers to play.
Multifaceted – there are 50+ games that cover agility, speed and reaction such as racing, dance battle or musical chairs, or those, focused on active and energetic learning. For example, maths, geography, language and sustainability among many others.
You'll get to meet and interact with more of the neighbourhood at Olivia, not to mention have loads of fun with the entire family – kids, parents and grandparents.
Who is Yalp?
Yalp develops and distributes state-of-the-art, innovative playsets and sports equipment, bringing the best of gaming with playing outside. Lark Industries in Australia is the sole distributor of Yalp who have been working with Olivia to help make this dream park a reality. Their mission is to create inspiring and challenging environments that invite everyone to get active and have fun.
Interested in finding out more?  
Please give us a call if you'd like to find out more about our new interactive playground or to register your interest about living at Olivia. Stage 6 has sold out! Register your interest for our upcoming Stage 7 land release. 
For all enquiries, please get in touch with our Estate Manager, Christian Taverna on 0422 871 939 or email [email protected], and start something beautiful today!
Image credit: Johnny Cohen on Unsplash – child on a swing. Yalp – Sona and Memo.